For more than 20 years Lacos has provided specialized interpreting services. Because of this we have an extensive network of reliable and qualified interpreters who can assist you in more than 50 languages.
The right interpreter for each project.
We have the right specialist available for each assignment, whether it has to do with interpretation for a company visit, an international conference, a theatre performance, obtaining a driver's license or a trial.
Our interpreters were selected based on their expertise, professionalism and excellent language skills. We select the ideal interpreter for your professional terminology and ensure that you can always count on the same interpreter for your project.
We can also take care of all logistical aspects for you, such as transportation, equipment and interpreter booths.
You can contact us for:
simultaneous interpretation
For large meetings with many participants who speak different languages, we have simultaneous interpreters. They are accustomed to working with equipment and interpreting booths. The interpreter listens and puts the words into the target language at the same time. The listeners can follow the translation through headphones. This way of interpreting can also be used for smaller meetings where every detail is important, such as a board meeting, a trade union meeting, etc.
consecutive interpretation
For smaller gatherings such as meetings and presentations, the speaker and the interpreter speak in turn. A consecutive interpreter will convert the speech into the target language afterwards, usually using notes he has taken.
Again we select your interpreter on the basis of his knowledge about your terminology. During such meetings, explanations are often given in very formal legal, financial, medical or technical language. You need an interpreter who is familiar with the terminology in the source language and the target language.
sworn interpreters
Do you need a sworn interpreter during a consultation with a doctor, lawyer, notary, the signing of an agreement, a wedding or for some other ceremony?
For these and similar situations, you need an interpreter who is familiar with the legal terminology in the source language and the target language. Our interpreters have a legal background and are sworn.
other
For the narration of texts, rental of interpreting material such as booths and sound systems, or if you have another question, we can undoubtedly find a suitable solution. Call or email us!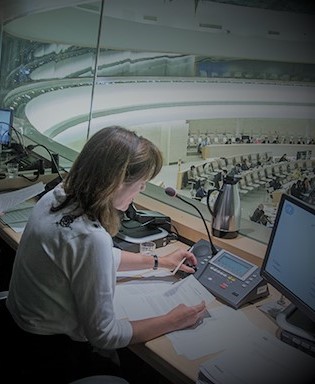 Our other services